Shopping Cart
Your Cart is Empty
There was an error with PayPal
Click here to try again
Thank you for your business!
You should be receiving an order confirmation from Paypal shortly.
Exit Shopping Cart
Sen Sei Menthol Rub Ointment 2 oz. & .25oz.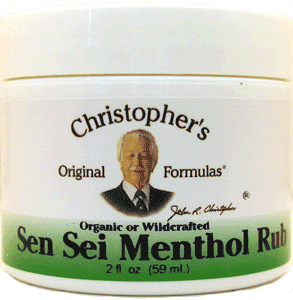 Description: Commonly referred to as the PORTABLE VAPORIZER! A synergistic blend of herbs for tension headaches and sinus pressure. Traditionally used as a natural decongestant. Can also be used on sore muscles for hours of relief. This balm brings blood circulation to the surface of the skin causing it to temporarily redden. This formula has been used historically to relieve tension and pressure. This balm is great for tension headache or sinus pressure. It should be used sparingly as this formula is strong.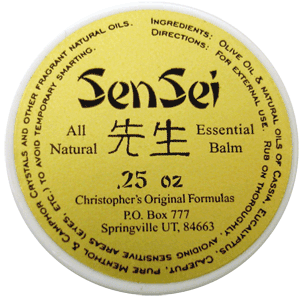 Ingredients: Extra Virgin Olive Oil, Natural Oils of Cassia, Eucalyptus, Cajeput, Pure Menthol & Camphor Crystals & other fragrant Natural Oils.

Ailments traditionally used for: Common Cold, Croup, Deafness, Earache, Ear Infection, Flu,
Fragile Capillaries, Headache, Influenza, Moles And Warts,
Pleurisy, Pneumonia, Sore Throat, Thyroid (Low), Upper Respiratory Infection


Directions: Apply externally as needed or as directed by your Health Care Professional. External Use Only. Refrigerate after opening.
/