Shopping Cart
Your Cart is Empty
There was an error with PayPal
Click here to try again
Thank you for your business!
You should be receiving an order confirmation from Paypal shortly.
Exit Shopping Cart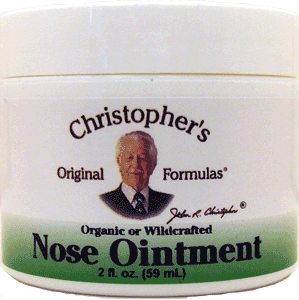 Description: This popular ointment is made from a synergistic blend of Spearmint Oil, Peppermint Oil & Non-Petroleum Jelly. Peppermint and Spearmint are very powerful oils, which contain an abundance of menthol, time-honored for its ability to alleviate the symptoms of colds and flu. The Aromatic Nose Therapy Ointment is used primarily inside the nose when it is congested, dry, sensitive or chapped. The Non-Petroleum Jelly is used for its ability to suspend the powerful effects of the peppermint and spearmint oils.
Ingredients: Castor Oil, Coconut Oil, Spearmint Oil, Peppermint Oil & Beeswax.

Ailments traditionally used for: Common Cold, Flu, Influenza, Sore Throat, Upper Respiratory Infection,
Directions: Apply in each nostril as needed, or as directed by your Health Care Professional.

Refrigerate after opening.
/