Shopping Cart
Your Cart is Empty
There was an error with PayPal
Click here to try again
Thank you for your business!
You should be receiving an order confirmation from Paypal shortly.
Exit Shopping Cart
Herbal Tooth & Gum Powder 2 oz.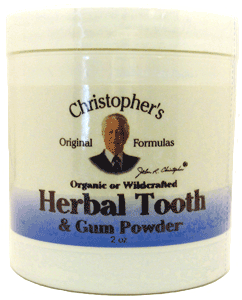 Description: This formula has been used historically to help strengthen the gums (bleeding and pyorrhea-type infections of the gums), and assist in tightening loose teeth.

This type of tooth powder will brighten tooth luster and make for a healthier mouth. For severe cases place this powder formula between the lips and gums (upper and lower) around the entire tooth area and leave on all night, six nights a week (as well as brush regularly) until improvement is evident. Then continue on with regular brushing with this herbal combination.
Ingredients: Horsetail, Peppermint, White Oak Bark, Cloves, Prickly Ash Bark, Bayberry Bark, Slippery Elm Bark & Stevia.

Ailments traditionally used for: Bad Breath (Halitosis), Dental Disease, Gum Disease, Halitosis, Peridontal Disease, Pyorrhea, Teeth Health


Directions: Use in place of toothpaste or as directed by your health care professional. (Wet toothbrush, dip toothbrush in Herbal Toothpowder, then use in place of toothpaste.)


For optimum results: Use the same as toothpaste. Use at least two to three times a day.

Store in a cool, dry place.
/