Shopping Cart
Your Cart is Empty
There was an error with PayPal
Click here to try again
Thank you for your business!
You should be receiving an order confirmation from Paypal shortly.
Exit Shopping Cart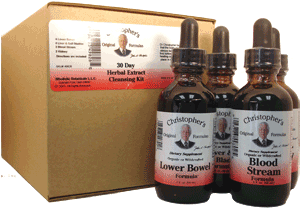 Herbal Cleansing Extract Kit 1 ct.


Description: These are the four basis formulas to be used for all ailments, and would be used in addition to the specific formulas called for with the particular ailment. They are as follows: Lower Bowel Formula, Liver & Gall Bladder Formula, Kidney Formula & Blood Stream Formula. Dr. John R. Christopher N.D., M.H. always taught that they key to optimum health is of cleansing the whole body to help promote a state of homeostasis or balance. When the body is in this state, it naturally moves toward wellness. Dr. Christopher always taught one key principle: cleansing and nourishing the body through the use of whole herbs and food achieve the backbone of our health.
Ingredients: Lower Bowel Extract, Liver & Gall Bladder Extract, Kidney Formula Ectract & Blood Stream Extract.
/