Shopping Cart
Your Cart is Empty
There was an error with PayPal
Click here to try again
Thank you for your business!
You should be receiving an order confirmation from Paypal shortly.
Exit Shopping Cart
Herbal Calcium Capsule 100 ct.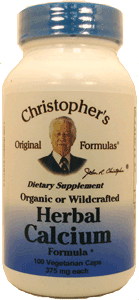 Description: Herbal Calcium Formula is a wonderful all natural calcium formula. As explained in the book, Biological Transmutations, the silica in horsetail grass converts to calcium. The other herbs work in close conjunction with this master calcium herb. We need calcium to build strong nerve sheaths, vein and artery walls, bones, teeth, etc. This combination is helpful for cramps, "Charlie horses," successful pregnancies, healthy bones, teeth, hair, skin and nails, healthy eyes and for all calcium needs in the body. It is helpful for children as well as adults.
Ingredients: Horsetail Grass, Nettle Leaf, Oatstraw Herb & Lobelia.

Ailments traditionally used for: Angina, Apoplexy, Arthritis (Gout), Arthritis (Osteo), Arthritis (Rheumatoid), Atherosclerosis, Athletic Performance, Bladder Ailments, Bladder Infection, Bleeding (Hemorrage), Bloating (Water Retention), Bones (General Health), Breast (General Health), Brights Disease, Brittle Bone Disease, Brittle Nails, Broken Bones, Bruising, Burns, Bursitis, Candida Albicans-Candidiasis, Carpal Tunnel Syndrome, Cataracts, Cervical Dysplasia, Change Of Life, Cholesterol, Chronic Venous Insufficiency (CVI), Colitis, Ulcerative, Congestive Heart Failure, Convulsions, Copper Overload (Wilsons Disease), Coronary Artery Disease, Crohns Disease, Cyst (Breast), Cystitis, Dandruff, Degenerative Arthritis, Degenerative Joint Disease, Dental Disease, Diptheria, Discoid Lupus Erythematosus (DLE), Dropsy, Duodenal Ulcer, Dysentery, Dyspnea, Ear Ache, Ear Infections, Edema, Eye Ailments, Fibrocystic Breast Disease,
Fibromyalgia, Fibrositis, Fragile Capillaries, Frog, Shingles, Teeth (Periodontal Disease), Thrush, Triglycerides (High), Ulcer (Gastric-Duodenal), Ulcerative Colitis (UC), Urinary Calculi, Urinary Tract Infection (UTI), Urolithiasis, Vaginitis, Venous Insufficiency (Chronic), Water Retention, Weight Loss, Wilsons Disease, Yeast Infection, Yellow Nail, Syndrome,


Directions: As a dietary supplement take 2 capsules 3 times a day or as directed by your health care professional.


Store in a cool, dry place.


Warning: Do not use during pregnancy or while nursing except as directed by your health care professional.
/