Shopping Cart
Your Cart is Empty
There was an error with PayPal
Click here to try again
Thank you for your business!
You should be receiving an order confirmation from Paypal shortly.
Exit Shopping Cart
Heavy Mineral Bugleweed Capsule 100 ct.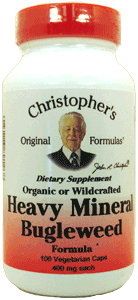 Description: This herbal combination is useful for combating pollution, both external and internal. It helps draw out dead (non-beneficial) minerals, drugs, and other pollutants trapped in the system. This formula is especially helpful when used in combination with the cleansing kit to increase the efficiency of the body in ridding itself of these harmful dead compounds. All encapsulated products are in a pure 100% vegetable based capsule.
Ingredients: Bugleweed Herb, Yellow Dock Root, Lobelia Herb & Cilantro Leaf.
Ailments traditionally used for: Alopecia, Alzheimer's Disease, Copper Overload, Dementia,
Hepatolenticular Degeneration, Senile Dementia (Alzheimer's Disease), Wilson's Disease


Directions: As a dietary supplement take 2 capsules 3 times a day or as directed by your health care professional.

Store in a cool, dry place.

Warning: Do not use during pregnancy or while nursing except as directed by your health care professional.
/