Shopping Cart
Your Cart is Empty
There was an error with PayPal
Click here to try again
Thank you for your business!
You should be receiving an order confirmation from Paypal shortly.
Exit Shopping Cart
Garlic Bulb Capsule 100 ct.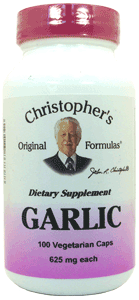 Description: Garlic's medicinal value is largely in its highly volatile essential oil, so be careful in its preparation. Anciently it was used in both healing and nutrition, as it was known to build physical strength and energy. It is a valuable nervine tonic and is especially useful in lowering hypertension; laboratory tests have proven this. It equalizes blood circulation, and it is a useful expectorant for all respiratory affections and infections.


Garlic has been known by many as to have this special affinity for the respiratory tract, beneficially influencing bronchial secretions, though it rapidly diffuses throughout the whole system. The odor is so readily diffusible that when the juice, oil, or other form is applied to the soles of the feet, in seconds it is exhaled by the lungs and detected on the breath.
Garlic stimulates the gastric juices and has active carminative properties to correct any fermentative and gaseous conditions in the stomach. It arrests intestinal putrefaction and infection, while stimulating the healthful growth of the "friendly bacteria." The garlic oil is reportedly so popular in Russian medicine that it is referred to as "Russian penicillin," and the hospitals and clinics have used the volatile garlic extracts almost exclusively in the form of vapors and inhalants.


During World War I garlic was used by many as an antiseptic and vulnerary and was sensational; wherever there is pus, it is a safe and certain remedy. Its anthelmintic properties and action is deadly to round and pin worms. It also appears to be a powerful agent against tumor formation. Laboratory experiments have shown that it kills both harmful bacteria and viruses as well.


Unfortunately, it is the fragrant element in the garlic, known as "allicin," which contains its antibacterial properties, so it is difficult to avoid the unpleasant smell. Some products claim to offer garlic's medicine without the smell, but we like to use raw garlic or home prepared garlic so that we know it's vital. If one is in need of help to rid themselves the body of this smell, then the use of chlorophyll is beneficial.


Garlic has also been found to be effective in the treatment of various conditions such as, respiratory and digestive tracts, urinary system, and the circulatory system (asthma and the easing of bronchial secretions, strengthen the immune system, lowering blood sugar, blood lipids, free cholesterol, low density lipoproteins and blood pressure as well as raise the high density lipoproteins. Garlic, with all of its beneficial properties, is truly one of man's best friends.


All encapsulated products are in a pure 100% vegetable based capsule.
Ingredients: Garlic.


Ailments traditionally used for: Abscess, Arterial Disease, Atherosclerosis, Yeast Infection, Worms, Thrush,

Directions: As a dietary supplement take 2 capsules before each meal with 12 oz of water or as prescribed by your health care professional.

Store in a cool, dry place.
/