Shopping Cart
Your Cart is Empty
There was an error with PayPal
Click here to try again
Thank you for your business!
You should be receiving an order confirmation from Paypal shortly.
Exit Shopping Cart
Female Reproductive Capsule 100 ct.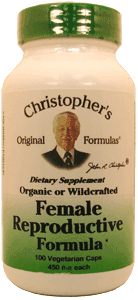 Description: Many natural healers know this formula as the female corrective formula. This is also an amazing combination of herbs to aid in rebuilding a malfunctioning reproductive system (uterus, ovaries, fallopian tubes, etc.)
Over the years herbalists and patients have seen painful menstruations, heavy flowing, cramps, irregularity, etc., change to a painless menstrual period, god menstrual timing, and a new outlook on life by using these aids to readjust the malfunctioning areas. All encapsulated products are in a pure 100% vegetable based capsule. This formula is accelerated with the use of cayenne capsules or tinctures in addition to the normal usage of Female Reproductive Formula.
Ingredients: Golden Seal Root, Blessed Thistle Herb, Cayenne Pepper, Cramp Bark, False Unicorn Root, Ginger Root, Red Raspberry Leaf, Squawvine Herb & Uva Ursi Leaf.


Ailments traditionally used for: Amenorrhea, Bloating (Water Retention), Gonorrhea, Heavy Menstruation, Hot Flashes, Indigestion, Menstrual Conditions,
Menopause, Miscarriage, PMS/PMT, Uterus
Directions: As a dietary supplement take 2 capsules 3 times a day or as directed by your health care professional.


Store in a cool, dry place.


Warning: Do not use during pregnancy or while nursing except as directed by your health care professional.
/