Shopping Cart
Your Cart is Empty
There was an error with PayPal
Click here to try again
Thank you for your business!
You should be receiving an order confirmation from Paypal shortly.
Exit Shopping Cart
Female Tonic Formula Capsule 100 ct.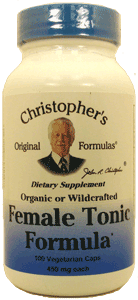 Description: This formula has been used historically as a tonic to help promote vitality, strength, energy, balance and overall health of the female reproductive systems. It also helps increase the body's ability to combat painful menstrual cycles, indigestion, nausea, and discomfort due to pregnancy. This formula is also a good source of phytonutrients, which help strengthen the thyroid and regulate metabolism. All encapsulated products are in a pure 100% vegetable based capsule.
Ingredients: Squawvine, Red Raspberry Leaves, Nettle Leaves, Dandelion Leaves, Wild Yam Root, Cramp Bark, Chickweed, Purple Dulse Leaves, Vitex Berries, Motherwort & Ginger Root.


Ailments traditionally used for: Alopecia, Amenorrhea, Anemia, Gonorrhea, Iron Defiency, Pimples,
Postpartum Support, Sports Supplements
Directions: As a dietary supplement take 2 capsules 3 times a day or as directed by your health care professional.


Store in a cool, dry place.
/