Shopping Cart
Your Cart is Empty
There was an error with PayPal
Click here to try again
Thank you for your business!
You should be receiving an order confirmation from Paypal shortly.
Exit Shopping Cart
False Unicorn & Lobelia Capsule 100 ct.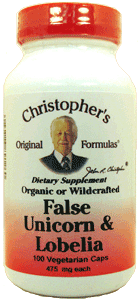 Description: This formula consists of these two herbs: False Unicorn Root & Lobelia Herb. Unless otherwise specified, teas are always made with one teaspoon of herbs to a cup of distilled water if obtainable. If hemorrhaging starts during pregnancy, stay in bed, use a bed pan when needed, and use ½ cup of the tea each 1/2 hour until bleeding stops, then each waking hour for one day, while in bed as much as possible, and then three times in a day for three weeks. If bleeding continues instead of decreasing, see a doctor. All encapsulated products are in a pure 100% vegetable based capsule.
Ingredients: False Unicorn & Lobelia


Directions: As a dietary supplement take 2 capsules every waking hour for up to 2 days or as directed by your health care professional.
Store in a cool, dry place.

Warning: Do not use during pregnancy or while nursing except as directed by your health care professional.
/