Shopping Cart
Your Cart is Empty
There was an error with PayPal
Click here to try again
Thank you for your business!
You should be receiving an order confirmation from Paypal shortly.
Exit Shopping Cart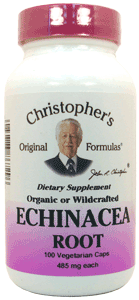 Echinacea Angustifolia Root Capsule 100 ct.



Description: Echinacea is a very effective alterative and blood-purifier, and it is a powerful and stimulating antiseptic and antiputrefactive agent. It is very valuable for correcting autoinfection, wherein elimination is imperfect and the tissues and fluids have altered and developed septic or putrefactive action with resultant systemal devitalization and adynamia (weakness). Its stimulating antiseptic and anti-putrefactive action on external surfaces is comforting. In arresting pus formation, it eliminates the disagreeable odors of foul surfaces and fetid discharges. It is an excellent healing agent wherever tissue decay is imminent or taking place, repair power is poor, and where there are unhealthy or sanious (bloody-tinged) discharges. Echinacea is a good appetizer and greatly improves digestion and is useful in strumous (goitrous, scrofulous) conditions. It relieves non-venomous bites and stings, and the Sioux Indians used the freshly-scraped root as a successful antidote for snake bites and hydrophobia. 100% vegetarian capsules.
Ingredients: Echinaea Angustifolia Root Powder, Goldenseal Root Powder.
Ailments traditionally used for: Aids Support, Alopecia, Aphthous Ulcers


Directions: As a dietary supplement take 2 capsules before each meal with 12 oz of water or as prescribed by your health care professional.

Store in a cool, dry place.

Warning: After taking Echinacea for 6-8 weeks it is recommended to take a break for 2-4 weeks before restarting use.
/