Shopping Cart
Your Cart is Empty
There was an error with PayPal
Click here to try again
Thank you for your business!
You should be receiving an order confirmation from Paypal shortly.
Exit Shopping Cart
Complete Tissue & Bone Ointment 4 oz. &2oz.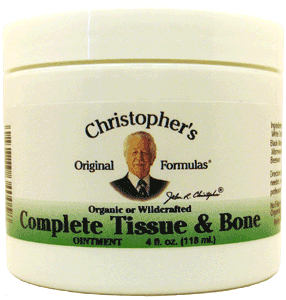 Description: A synergistic blend of herbs for bruises, stiff necks, sprains and strained or sore muscles. Also known as Bone, Flesh and Cartilage or Regenerative Formula. For External Use Only.


Used historically by natural healers and many herbalists to help regenerate proper joint function and healthy connective tissue, healthy bones, many skin disorders as well as helping to promote the general health of the skin and nails. (Primary use: external)
The Complete Tissue & Bone Ointment is the same formula as the ointment, except it does not have beeswax added; thus, it is a liquid at room temperature.
Ingredients: Extra Virgin Olive Oil, Wheat Germ Oil, White Oak Bark, Comfrey Root, Mullein Leaf, Black Walnut Leaf, Marshmallow Root, Gravel Root, Wormwood Herb, Lobelia Herb, Skullcap Herb & Beeswax.


Ailments traditionally used for: Abrasions, Abscess, Apoplexy, Arthritis (Gout), Arthritis (Osteo), Arthritis (Rheumatoid), Athletic Performance , Athletes Foot, Atopic Dermatitis, Athletic Performance, Bee Stings, Black Eye, Bleeding, Boils, Bone Health, Breast Health, Bronchitis, Bright's Disease, Bruises, Burns, Bursitis,
Carpal Tunnel Syndrome, Chicken Pox, Degenerative Joint Disease
Dermatitis, Dizziness, Dupuytren's Contracture, Eczema, Fragile Capillaries, Gangrene, Gout, Hernia, Herpes (Zoster), Housemaid's Knee, Inflammation, Insect Stings, Intermittent Claudication, Itch, Neuralgia (Post),Osteochondrosis (Tibial Tuberosity), Piles, Psoriasis, Rheumatism, Shingles, Sport Supplements, Sprains, Stiffnecks, Strains, Stroke, Tumor
Ulcerative Colitis, Varicose Veins, Venous Insufficiency (Chronic), Yellow Nail Syndrome,


Directions: Apply externally atleast six times a day as needed or as directed by your Health Care Professional. External Use Only.


Refrigerate after opening.

Warning: External use only. Consuming this product may cause Liver damage. This product contains comfrey. Comfrey contains pyrrolizidine alkaloids which may cause serious illness or death. This product should not be taken orally used as a suppository or applied to broken skin. For further information contact the Food & Drug Administration.
/