Shopping Cart
Your Cart is Empty
There was an error with PayPal
Click here to try again
Thank you for your business!
You should be receiving an order confirmation from Paypal shortly.
Exit Shopping Cart
Chest Formula Capsule 100 ct.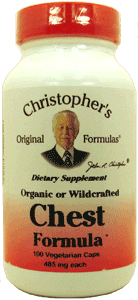 Description: Dr. Nowell, the instructor at the Dominion Herbal College of Vancouver, B.C. says, "We have made and used composition powder for over forty years. When we state we regularly mixed it in batches of sixty pounds the student will readily see that we have had at least some experience with it. As a remedy in colds, beginning of fevers, flu, hoarseness, sluggish circulation, colic, cramps, etc. We believe it has done more good than any other single preparation ever known to man. If this compound were kept in every home, and used as the occasion arose, there would be far less sickness." This Composition Powder is safe for anyone, children and adults alike; it's very effective in breaking up colds, flu, etc. All encapsulated products are in a pure 100% vegetable based capsule.
Ingredients: Bayberry Bark, Ginger Root, White Pine Bark, Cloves Whole & Cayenne Pepper.
Ailments traditionally used for: Alzheimer's Disease, Angina, Blood Poisoning, Bronchitis,
Chronic Obstructive Lung Disease (COLD), Colic, Common Cold,
Dementia, Fevers, Flu, Gingivitis, Influenza, Laryngitis,
Miscarraige, Polyps (Adenoids), Pulmonary Disease (COPD),
Respiratory System (COPD), Senile Dementia (Alzheimer\\\'s Disease),
Sore Throat, Throat (General), Upper Respiratory Infection,
Uterus
Directions: As a dietary supplement take 2 capsules 3 times a day or as directed by your health care professional.
Store in a cool, dry place.
/