Shopping Cart
Your Cart is Empty
There was an error with PayPal
Click here to try again
Thank you for your business!
You should be receiving an order confirmation from Paypal shortly.
Exit Shopping Cart
Cayenne Heat Ointment .25 oz.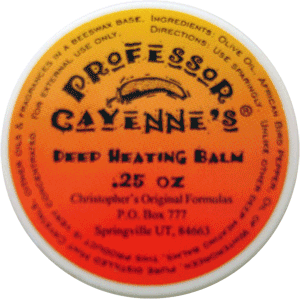 Description: A synergistic blend of herbs, pure essential oils and other natural ingredients for stiff necks, sore muscles and joints.
Ingredients: Cayenne Pepper (40,000 H.U.), Virgin Olive Oil, Oil of Wintergreen, Menthol Crystals & other pure essential oils as fragrances & Beeswax.
Ailments traditionally used for: Abrasions, Apoplexy, Arthritis (Gout), Arthritis (Osteo), Arthritis (Rheumatoid), Atherosclerosis ,Athletic Performance, Bloating (Water Retention), Bright's Disease, Bruises, Bursitis, Carpal Tunnel Syndrome, Degenerative Joint Disease, Dupuytren's Contracture, Fragile Capillaries, Gangrene, Gout, Headache, Hemorhage, Herpes (Zoster), Housemaid's Knee, Injuries, Intermittent Claudication, Rheumatism, Shingles, Sport Supplements, Sprains, Stiffnecks, Strains, Tumor, Varicose Veins,

Directions: Apply externally for temporary minor discomfort. Avoid contact to sensitive areas, especially the eyes & lips. Rub in thoroughly to avoid possible staining to clothing. External Use Only. Refrigerate after opening.
/