Shopping Cart
Your Cart is Empty
There was an error with PayPal
Click here to try again
Thank you for your business!
You should be receiving an order confirmation from Paypal shortly.
Exit Shopping Cart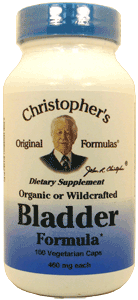 Bladder Formula Capsule 100 ct.



Description: This formula is specifically for controlling or overcoming bed-wetting and strengthening the entire urethral canal, kidneys, bladder, etc. Another helpful hint prior to retiring is to fasten a ball about six to eight inches in diameter of yarn or string or cloth onto the nightclothes in the middle of the back. The main reason for doing this is really quite simple; it is helpful in preventing the individual from lying on the back. Why? When someone lies on their back, this is generally the time and position in which the valves release to void urine. How does this work? Well, when this person rolls over onto their back their tendency is to start to release urine. However, due to this incredibly uncomfortable ball in the middle of the back, they tend to wake up just prior to voiding urine, thus, saving much clean up time and mess, not to mention all of the embarrassment that one would experience if this were to happen. (Formula for children—see Kid-e-Dry)
Ingredients: Black Cohosh Root, Ginger Root, Gravel Root, Juniper Berries, Lobelia Herb, Marshmallow Root, Parsley Root, Uva Ursi Leaf & White Pond Lily.


Ailments traditionally used for: Bed Wetting (Incontinence)Cystitis Enuresis, Kidneys, Nephrolithiasis, Renal Calculi, Urinary Calculi, Urinary Tract Infection,
Urolithlasis


Directions: As a dietary supplement take 2 capsules 3 times a day or as directed by your health care professional.


Store in a cool, dry place.
/