Shopping Cart
Your Cart is Empty
There was an error with PayPal
Click here to try again
Thank you for your business!
You should be receiving an order confirmation from Paypal shortly.
Exit Shopping Cart
Black Drawing Ointment 2 oz.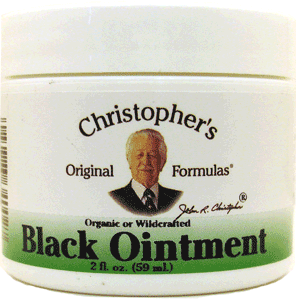 Description: A synergistic formula traditionally used to help draw out toxin's and impurities so the tissue can heal. It is for external use only.
This formula is traditionally known for its ability to help draw out toxins and poison from an area, especially effective for helping to promote healthy skin function.
Ingredients: Extra Virgin Olive Oil, Chaparral Leaf, Comfrey Root, Red Clover Blossom, Mullein Leaf, Plantain Leaf, Chickweed Herb, Lobelia Herb, Golden Seal Root, Marshmallow Root, Poke Root, Pine Tar, Mutton Tallow & Beeswax.
Ailments traditionally used for: Abscess, Bee Stings, Boils, Burns, Cancer, Hemorrhoids,
Moles And Warts, Piles, Spider Bites, Tumor,
Warts And Moles,

Directions: Apply externally as needed or as directed by your Health Care Professional. For external use only. Refrigerate after opening.
Warning: External use only. Consuming this product may cause Liver damage. This product contains comfrey. Comfrey contains pyrrolizidine alkaloids which may cause serious illness or death. This product should not be taken orally used as a suppository or applied to broken skin. For further information contact the Food & Drug Administration.
/