Shopping Cart
Your Cart is Empty
There was an error with PayPal
Click here to try again
Thank you for your business!
You should be receiving an order confirmation from Paypal shortly.
Exit Shopping Cart
Birth-Prep Capsule 100 ct.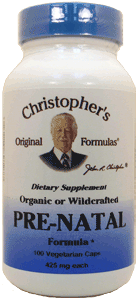 Description: This formula is the birth-prep 6 week formula from Dr. Christopher. Using this formula (two or three capsules) morning and night is an aid in giving elasticity to the pelvic and vaginal area and strengthening the reproductive organs for easier delivery. The formula should be used only in the last six weeks before time of birth as follows: 1 capsule per day of the first week, 2 capsules per day the second week and 2 capsules three times a day from the third week on. 6 capsules a day is he maximum dosage suggested. All encapsulated products are in a pure 100% vegetable based capsule.
Ingredients: Squawvine Herb, Blessed Thistle Herb, Black Cohosh Root, Pennyroyal Herb, False Unicorn Root, Red Raspberry Leaf & Lobelia Herb.
Ailments traditionally used for: Great during last six weeks of pregnancy only


Directions: This product is only to be used under a professional health care provider during the last 6 weeks of pregnancy. Take 1 capsule daily for the 1st week, 2 capsules daily during the 2nd week & 2 capsules 3 times a day for the 3rd week and thereafter or as directed by your health care professional. 6 capsules daily is the maximum dosage suggested.


Store in a cool, dry place.


Warning: Do not use during pregnancy or while nursing except as directed by your health care professional.
/