Shopping Cart
Your Cart is Empty
There was an error with PayPal
Click here to try again
Thank you for your business!
You should be receiving an order confirmation from Paypal shortly.
Exit Shopping Cart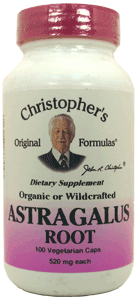 Astragalus Root Capsule 100 ct.


Description: Astragalus plays a vital role in Chinese medicine. It has been used historically to treat infections of the mucous membranes of the body, especially the urinary and respiratory tracts. This herb is also known to help strengthen the immune system by stabilizing the body's shield or defenses against viruses and bacteria. This herb is oftentimes likened unto Echinacea, however, the difference between the two herbs is that Astragalus can also be used as a long-term preventative and restorative herb, both to prevent illness and to renew energy and the body's overall "CHI" or vitality. The Chinese name for Astragalus is Huang qi, which means "yellow energy." This herb is considered a treatment for frequent colds, chronic lung weakness, shortness of breath, weak digestion, general weakness or fatigue, lack of appetite, diabetes, organ prolapse, nephritis, stomach ulcers, and it is also known as a liver protectant and heart tonic. Astragalus is widely known to help strengthen both the vital parts of the immune system: nonspecific immunity, which protects against a wide range of foreign invaders, and specific immunity, which enlists individual antibodies to target specific invaders (antigens). At least three polysaccharides and two saponin constituents may be invaders in these effects. 100% vegetarian capsules.
Ingredients: Astragalus Root.

Directions: As a dietary supplement take 2 capsules before each meal with 12 oz of water or as prescribed by your health care professional.

Store in a cool, dry place.
/