Shopping Cart
Your Cart is Empty
There was an error with PayPal
Click here to try again
Thank you for your business!
You should be receiving an order confirmation from Paypal shortly.
Exit Shopping Cart
Appetite Formula Capsule 100 ct.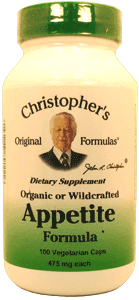 Description: This is a weight management formula. It is best when used with a healthy lifestyle and exercise program.
Combine this anti-obese aid with the mucusless diet and you have a winner. This is not a crash program for fast loss of weight, but graduated and accurate loss without robbing the body of the needed nutrients like so many fad diets do. This acts as a blood purifier, aids kidneys in relieving excess fluids, feeds the body for relief from nervous tension generally caused by diets, appeases the appetite, feeds the thyroid and other malfunctioning glands and thus gains a healthier state for holding weight control.
All encapsulated products are in a pure 100% vegetable based capsule.
Ingredients: Black Walnut Leaf, Burdock Root, Chickweed, Echinacea Augustafolia Root, Fennel Seed, Hawthorn Berries, Kelp, Licorice Root, Mandrake, Papaya, Parsley Root & Safflower.

Ailments traditionally used for: Aphthous Ulcer, Athletic Performance, Obesity, Sport Supplements,
Weight Loss

Directions: As a dietary supplement take 2 capsules 3 times a day or as directed by your health care professional.

Store in a cool, dry place.
/